President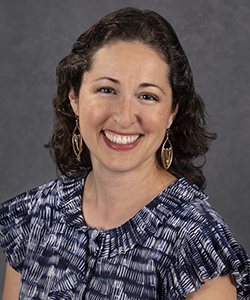 Monica Vosilla; Director of Digital Communications, UF Advancement
Monica's 17-year career spans copywriting, teaching, recruiting and marketing. Higher education is a great fit as she is a lifelong student. It's true – she just started, thanks to EEP, UF's information systems and operations management graduate program.
Monica returned to her home state of Florida and began working at UF in 2016 after many years in the Midwest. She is currently the director of digital communications for UF Advancement. Monica has been involved with APA the past five years in various board roles supporting strategy, membership, programming and promotion. She believes that UF can feel like a friendly neighborhood for all staff – APA can help make that a reality.
---
Secretary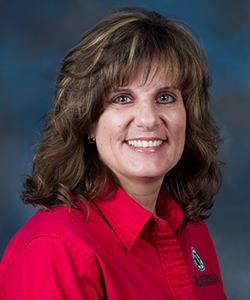 Janice Shephard, UF/IFAS Center for Leadership
Janice Shephard has been employed with the University of Florida for 21 years. She began her career as a Program Assistant with the Quantum Theory Project in the Chemistry Department. Since then, she has served as Administrative Specialist in UF/IFAS Wedgworth Leadership Institute for Agriculture and Natural Resources in the Department of Agricultural Education and Communication for 19 years. In 2014 she began supporting the UF/IFAS Center for Leadership by providing secretarial support as well as other duties for the Center.
In her current role, she is responsible for the financial administration of the program as well as planning and implementing various elements, which are successful to the program. She maintains state budget appropriations, the University of Florida Leadership and Education Foundation, Inc. accounts for the Wedgworth Leadership Institute as well as an endowment housed in the UF Foundation, a second endowment, prepares annual audit for the Wedgworth Leadership Institute as well as the annual Operating Budget. Janice makes logistic arrangements for all program seminars, the annual University of Florida Leadership and Education Foundation, Inc. Board meeting, Semi-annual Board meeting and, Wedgworth Leadership Institute Advisory Council Meeting. She maintains historical information about the program.
Having volunteered in some capacity most of her life, Janice saw running for secretary of the APA a chance to give back and be part of the process of positive change at UF.
---
Treasurer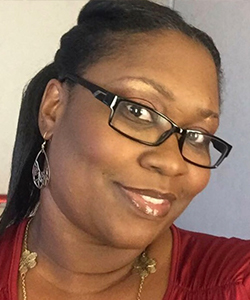 Anika Nathan; Director of Finance, College of the Arts
Anika Nathan joined the Dean's office in 2016 and is now the Director of Finance for the College of the Arts. She is responsible to the Dean, Associate Deans, School and Center Directors (college-wide leadership) and faculty for budgeting, reporting on, reviewing and analyzing all facets of the college's financial status for all of its cost centers, grants and programs to ensure they are meeting financial goals and compliance requirements.
Prior to coming to UF, Anika served as an Operations Manager at Virginia Tech for four years and the Business Officer at the University of North Carolina Wilmington for six years. With over twenty years of professional experience, she brings a wealth of financial and management knowledge. Anika earned an MBA from the University of North Carolina Wilmington, MS in Technology Management and a BS in Graphics Communication Systems, both from North Carolina A&T State University in Greensboro, NC. In her free time she enjoys traveling, reading, singing in the church choir and spending time with her family.
---
Advocacy Co-Chair
Honey Langford; HR Generalist 2, College of the Arts
Honey is the Human Resources Generalist for the College of the Arts and has been with the APA since 2018. She has a BAS in Business Administration and is the first go-to in her college for all HR or payroll related issues. She prides herself on her involvement in staff advocacy and networking within UF.
In her free time, you will find Honey riding roller coasters at theme parks, hiking the Florida trails or kayaking down the local rivers in north central Florida.
"If you don't like something change it. If you can't change it, change your attitude." – Maya Angelou
---
Advocacy Co-Chair
Brigit Dermott; Assistant Director for Administration, Office of the Chief Diversity Officer
Brigit is Assistant Director for Administration in the Office of the Chief Diversity Officer. In this role she handles office management, special projects and communications, among other tasks. Brigit got involved with APA through her interest in developing mentoring opportunities for staff and she continues to be passionate about equity and inclusion for staff at UF.
Brigit has worked at the university since 2011 and was previously administrative coordinator in the College of Public Health and Health Professions' Office of the Dean and executive assistant in the Office of the Vice President and General Counsel. Prior to joining the university, Brigit worked as an editor in New York City for publishers including Cambridge University Press, Oxford University Press and Scribner's. Brigit holds a BA in government from Cornell University. In her free time, Brigit is president of the Gainesville Modern Quilt Guild and an avid modern quilter. She also enjoys reading and spending time with her husband and daughter.
---
Communications Chair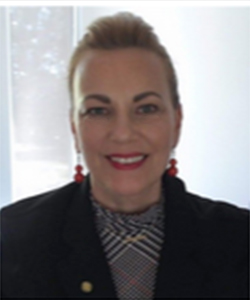 Debra Krawczykiewicz; Administrative Assistant II, UF Information Technology
Debra joined Academic Technology in 2018 as an assistant to the Director, Mark McCallister. She is a UF alumna with degrees in Public Relations and Communications.

Debra's initial career was broadcasting, with 20 years in radio and television, as an on-air personality. She moved back to Gainesville in 2012 and began her career at UF in the College of Medicine. Debra is a proud Gator and glad to be part of the UFIT team. Also great at spelling contests….(last name!)
---
Digital Chair
Christina Hendricks; MA, Web Designer II, Department of Anesthesiology
Christina studied Film and Television Production as an undergraduate at Palm Beach Atlantic University and worked almost 10 years in television news as a photojournalist before completing her Master of Arts in Mass Communication at the University of Florida.
After falling in love with Gainesville and the University of Florida, Christina decided to stay, and began working for the Department of Anesthesiology in 2017 as a Web Designer. In addition to managing the department's websites and social media accounts, she promotes and markets the department and its clinical, educational, and research missions, designs print and digital promotional materials, creates figures and images for research publications, and is the department's photographer and videographer.
Christina is passionate about design and endeavors to create materials that efficiently and effectively communicate the appropriate message and are beautiful as well.
---
Programs Chair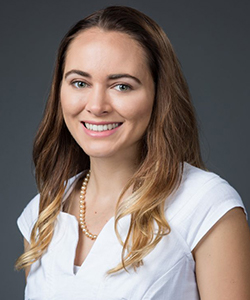 Sierra McVeigh; Academic Advisor I, Department of Mechanical and Aerospace Engineering, Herbert Wertheim College of Engineering
Sierra is a Florida native and double Gator in Mechanical Engineering. Developing programs and initiatives that encourage continuing education, personal growth and inclusion are top priorities for Sierra as an advisor to undergraduates and as a UF employee. She enjoys mentoring students, planning events for colleagues and sharing lots of home baked goods with anyone who will take them. One day she may open a bed and breakfast in Vermont, but for now she enjoys decorating for every holiday and season of the year and the freedom to travel whenever and wherever the wind takes her.
---
2021-2022 Representations
Francesca Antoine, Business Manager, College of Public Health and Health Professions – Health Services, Research, Management and Policy
Randy Foli, Clinical Research Coordinator, College of Medicine – Department of Neurology
Lauren Guidi, Administrative Specialist III, College of Public Health and Health Professions – Dean's Office
Oscar Hernandez, Biological Scientist, College of Veterinary Medicine
James Kocher, IT Support Supervisor, UF Information Technology – Academic Technology
Tonya Lewis, Conference and Event Planner, UF Housing and Conference Services
Emily Moran, Assistant Controller, Finance & Accounting – Controller's Office
Sarah Rushing, Administrative Specialist II, School of Forest Resources and Conservation
Jeremy Schmidt, Senior Project Manager, College of Medicine – Dean's Office
Sarah Slysofski, Administrative Specialist II, College of Medicine – Obstetrics and Gynecology
Kristin Theus, Academic Advisor II, J. Crayton Pruitt Family Department of Biomedical Engineering
Jessie Watson, Biological Scientist, UF/IFAS – Southwest Florida Research and Education Center, Horticulture Sciences