President
Christina Mohlmaster; Human Resources Generalist II, Levin College of Law
Christina has been with the University of Florida since 2018. She got involved with the APA in 2021 through her interest in giving back to UF. She prides herself on welcoming new staff and making them feel like a part of the family. As a veteran, she hopes to partner with the Collegiate Veterans Success Center to provide resources to our staff who are veterans and create a strong network with APA.
Previously, Christina worked with Human Resources as a Classification and Compensation Analyst. She worked with departments throughout the University and advised them on reclassifications, market salary analysis, benchmarking titles, and updating position descriptions, among other tasks. Prior to this, she worked in the office of the Vice President of Student Life as an Administrative Specialist.
In her spare time, Christina volunteers as the Registration and Compliance Director for her local athletic association. She enjoys traveling, an occasional good book, and spending time with her husband and three daughters.
---
Past-President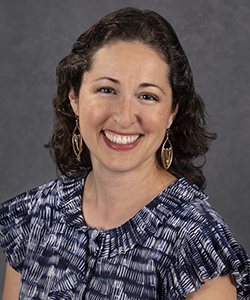 Monica Vosilla; Director of Digital Communications, UF Advancement
Monica's 17-year career spans copywriting, teaching, recruiting and marketing. Higher education is a great fit as she is a lifelong student. It's true – she just started, thanks to EEP, UF's information systems and operations management graduate program.
Monica returned to her home state of Florida and began working at UF in 2016 after many years in the Midwest. She is currently the director of digital communications for UF Advancement. Monica has been involved with APA the past five years in various board roles supporting strategy, membership, programming and promotion. She believes that UF can feel like a friendly neighborhood for all staff – APA can help make that a reality.
---
Vice President
Honey Langford; HR Generalist 2, College of the Arts
Honey is the Human Resources Generalist for the College of the Arts and has been with the APA since 2018. She has a BAS in Business Administration and is the first go-to in her college for all HR or payroll related issues. She prides herself on her involvement in staff advocacy and networking within UF.
In her free time, you will find Honey riding roller coasters at theme parks, hiking the Florida trails or kayaking down the local rivers in north central Florida.
"If you don't like something change it. If you can't change it, change your attitude." – Maya Angelou
---
Treasurer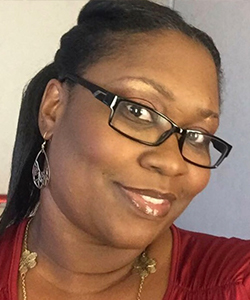 Anika Nathan; Director of Finance, College of the Arts
Anika Nathan joined the Dean's office in 2016 and is now the Director of Finance for the College of the Arts. She is responsible to the Dean, Associate Deans, School and Center Directors (college-wide leadership) and faculty for budgeting, reporting on, reviewing and analyzing all facets of the college's financial status for all of its cost centers, grants and programs to ensure they are meeting financial goals and compliance requirements.
Prior to coming to UF, Anika served as an Operations Manager at Virginia Tech for four years and the Business Officer at the University of North Carolina Wilmington for six years. With over twenty years of professional experience, she brings a wealth of financial and management knowledge. Anika earned an MBA from the University of North Carolina Wilmington, MS in Technology Management and a BS in Graphics Communication Systems, both from North Carolina A&T State University in Greensboro, NC. In her free time she enjoys traveling, reading, singing in the church choir and spending time with her family.
---
Advocacy Chair
David Pelino; Undergraduate Student Recruitment and Alumni Engagement Assistant, College of the Arts
David's main responsibilities are to provide administrative support to the College of the Arts in the area of undergraduate student recruitment and alumni engagement. He serves as a member of the College's Advising and Recruitment team and reports to the Associate Dean for Academic and Student Affairs. With that team, he assists in the planning and execution of student recruitment efforts, including assisting in the design, creation, and distribution of student recruitment materials, scheduling and implementation of student recruitment events, collecting admission and retention data, and representing the College at recruitment events.
Along with his duties in the College, David is a regular performing artist as a soloist and ensemble member, most recently singing with Prometheus: An American Vocal Consort, an extension of the Choral Arts Alliance. His solo credits include being the tenor soloist in Theodore Dubois' The Seven Last Words of Christ, in Benjamin Britten's Rejoice in the Lamb, Adolphus Hailstork's I Will Lift Up Mine Eyes, the "Evangelist" in J.S. Bach's St. John Passion, and various other performances in the Western art canon.
---
Communications Chair
Christina Hendricks, MA; Manager, Communications & Publishing Office, Department of Anesthesiology
Christina studied Film and Television Production as an undergraduate at Palm Beach Atlantic University and worked almost 10 years in television news as a photojournalist before completing her Master of Arts in Mass Communication at the University of Florida.
After falling in love with Gainesville and the University of Florida, Christina decided to stay, and began working for the Department of Anesthesiology in 2017 as a Web Designer. In addition to managing the department's websites and social media accounts, she promotes and markets the department and its clinical, educational, and research missions, designs print and digital promotional materials, creates figures and images for research publications, and is the department's photographer and videographer. In 2022, Christina was promoted to be Manager of the Communications & Publishing Office in the Department of Anesthesiology.
Christina is passionate about design and endeavors to create materials that efficiently and effectively communicate the appropriate message and are beautiful as well.
---
Programs Chair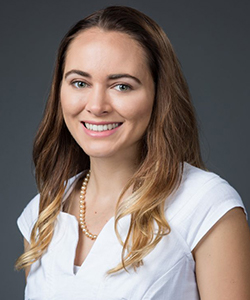 Sierra McVeigh; Academic Advisor I, Department of Mechanical and Aerospace Engineering, Herbert Wertheim College of Engineering
Sierra is a Florida native and double Gator in Mechanical Engineering. Developing programs and initiatives that encourage continuing education, personal growth and inclusion are top priorities for Sierra as an advisor to undergraduates and as a UF employee. She enjoys mentoring students, planning events for colleagues and sharing lots of home baked goods with anyone who will take them. One day she may open a bed and breakfast in Vermont, but for now she enjoys decorating for every holiday and season of the year and the freedom to travel whenever and wherever the wind takes her.
---