Warm Welcome Goals
To officially welcome newer staff to the UF community
To foster a sense of belonging and community among all staff
To offer inspiration from UF leaders
To spark new connections across the institution
Featured in Higher Ed Magazine
UF's Warm Welcome was featured in Higher Ed Magazine in their Winter 2021-2022 edition. APA officers; Honey Langford, Krista Vaught and Monica Vosilla; wrote about the need for new hires to feel a sense of belonging, how the event was designed, and gave tips for other organizations wanting to create a similar experience.
Upcoming Event
Virtual – Zoom
Thursday, May 19, 3 – 4:30 p.m.
The event aims to officially welcome new staff to the University of Florida, to foster a sense of belonging and community among staff, and to offer inspiration from UF leaders. In addition, you will have the opportunity to connect with staff from across the university. We also welcome existing staff to attend and engage with us.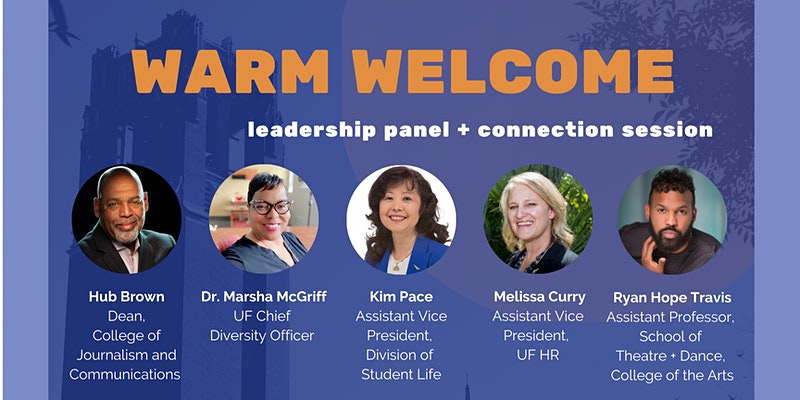 Leadership panel:
Hub Brown, Dean, UF College of Journalism and Communications
Dr. Marsha McGriff, UF Chief Diversity Officer
Kim Pace, Assistant Vice President, Division of Student Affairs
Melissa Curry, Assistant Vice President, UF HR
Moderator: Ryan Hope Travis, Assistant Professor, School of Theatre + Dance, College of the Arts,
Event agenda:
3:00 – 3:10 p.m. – Welcome and introductions
3:10 – 4:00 p.m. – Moderated leadership panel
4:00 – 4:30 p.m. – Connection session and concluding remarks
Past Warm Welcomes
Watch the 2019 Inaugural Warm Welcome