Warm Welcome Goals
To officially welcome newer staff to the UF community
To foster a sense of belonging and community among all staff
To offer inspiration from UF leaders
To spark new connections across the institution
Featured in Higher Ed Magazine
UF's Warm Welcome was featured in Higher Ed Magazine in their Winter 2021-2022 edition. APA officers; Honey Langford, Krista Vaught and Monica Vosilla; wrote about the need for new hires to feel a sense of belonging, how the event was designed, and gave tips for other organizations wanting to create a similar experience.
An Award-Winning Event
The University of Florida's Academic and Professional Assembly (APA) received the College and University Professional Association for Human Resources (CUPA-HR) 2022 HR Innovation Award for its "Warm Welcome" project.
The HR Innovation Award recognizes innovative thinking in higher education HR, especially models that can be adapted for use on other campuses.
Next Event
Warm Welcome – Fall Edition
Monday, October 17 | 9 – 10:30 a.m. | Harn Museum of Art
The event aims to officially welcome new staff to the university, foster a sense of belonging and community, and offer inspiration from UF leaders. In addition, attendees will have the opportunity to connect with fellow staff.
We welcome existing staff to attend as well. Space is limited* as this is an in-person event. Breakfast will be served.
*Please note: We anticipate a waitlist for this event. If your plans change and you are no longer able to attend, please cancel your registration so that we can accept additional attendees from the waitlist.
Last Event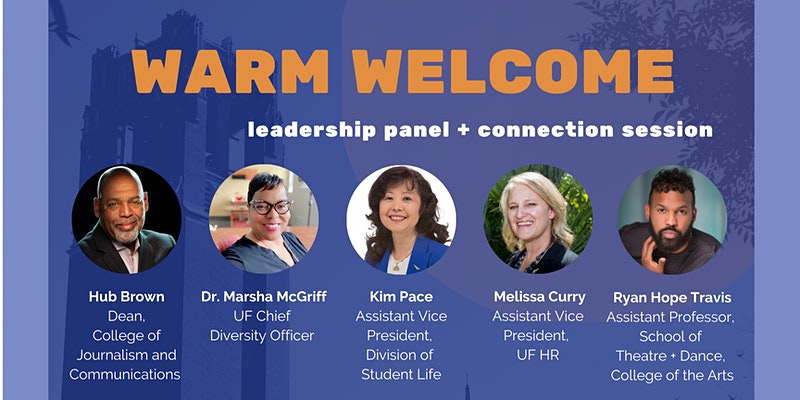 Leadership panel:
Hub Brown, Dean, UF College of Journalism and Communications
Dr. Marsha McGriff, UF Chief Diversity Officer
Kim Pace, Assistant Vice President, Division of Student Affairs
Melissa Curry, Assistant Vice President, UF HR
Moderator: Ryan Hope Travis, Assistant Professor, School of Theatre + Dance, College of the Arts,
Past Warm Welcomes
Watch the 2019 Inaugural Warm Welcome
Watch the 2021 Spring Warm Welcome
Watch the 2021 Fall Warm Welcome