Shakespeare's The Comedy of Errors Comes to UF April 3-12
March 27, 2015 3:26 pm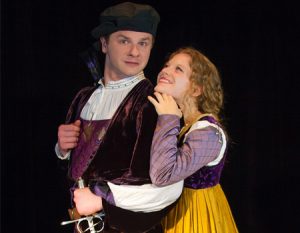 The School of Theatre + Dance invites you to The Comedy of Errors by William Shakespeare and directed by Judith Williams April 3-12. Farcical mishaps and intrigue arise when two sets of identical twins, separated since birth, unknowingly arrive in the same town. Shakespeare serves up sidesplitting fun, bittersweet romance and comic mayhem as the twins overcome a bad case of mistaken identity!
Performance times are 7:30 p.m. April 3-4 and April 7-11, and at 2 p.m. April 12 in the Black Box Theatre located in the Nadine McGuire Theatre and Dance Pavilion on UF's campus.
Tickets are $13 for UF faculty/staff. More information is available at www.arts.ufl.edu/calendar. Tickets are available through the University Box Office, by calling 352-392-1653 or at ticketmaster.com.